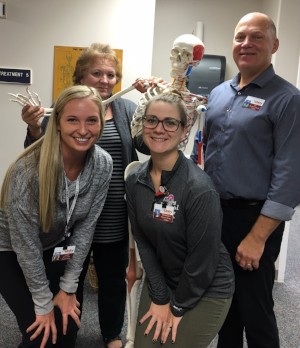 Physical Therapy and Rehabilitation Services
Unity Medical Center Physical Therapy can help you recover from a surgery, injury, or illness. Our primary focus is to restore function and improve quality of life. We use a wide array of treatments from hands-on therapy to state-of-the-art equipment.
Inpatient Therapy: Acute and Swing Bed
A staff of Physical Therapists, Physical Therapy Assistant, Physical Therapy Aide, Occupational Therapist, and Speech Therapist work together to provide care to patients of all ages in the hospital. These patients may have had a recent surgery or could be recovering from a serious illness. Our therapy staff works in coordination with the other healthcare team members to provide quality care to maximize the patient's function and independence.
Outpatient Therapy
Unity Medical Center outpatient Physical Therapy is a growing dynamic department. Our Physical Therapy staff is committed to giving you high-quality physical therapy services and helping you achieve your health goals.
Hours of Operation
Monday through Friday 7:00 AM to 5:30 PM
Phone: 701-352-9398
Fax: 701-352-9382
Location
Second floor of Unity Medical Center on west side.
Physical Therapy Treatments Include:
Post surgical orthopedic rehab
Treatment of spinal pain and dysfunction
Sacroiliac dysfunction
Sports injuries
Musculoskeletal and myofascial pain disorder
Orthopedic injuries to shoulder, elbow, wrist, and hand
Orthopedic injuries to hip, knee, ankle, and feet
Vertigo
Stroke rehab
Overuse injuries
Burn and wound care
Joint sprains, strains, and stiffness
Muscle and tendon injuries
Tendonitis and bursitis
Arthritis
Neurological disorder
Gait and orthotic assessment
Rehab services offered:
Physical Therapy
Outpatient Physical Therapy
Speech Therapy
Outpatient Cardiac Rehab
In-school pediatric therapy
Physical therapy assessment of injured workers
Physical Therapy visits to Marvin Windows & Doors