30th Annual Golf Tournament, July 22, 2021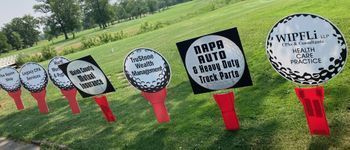 Fair Oaks Golf Course, Grafton
Thanks to 55 sponsors and 96 golfers, funds raised at this year's scramble are going toward Unity staff education, which improves the patient experience!
Sponsors
Masters
Consulting Radiologists Ltd.
Facility Asset Management Inc.
Kieley Electric
TruStone Wealth Management
Wipfli LLP
Eagle
Altru Health System
Filter Care of Grafton (NAPA)
Marvin Windows
Walsh County Mutual Insurance Co.
Weinlaeder Seed Co.
Birdie
Bell Bank
Blue Cross Blue Shield of North Dakota
Gilleshammer-Thiele Farms
Grafton Auto Electric
Hall Currie Lawyers
Hoople Farmers Grain Co.
Hurtt, Mortenson & Rygh CPA
Kutz & O'Brien Inc.
Legacy CPA
Northern Tier Anesthesia Assoc.
North Star Community Credit Union
Otto Ag
Polar Communications
Thrifty White Pharmacy
Hole
1st United Bank
AgCountry Farm Credit Services
Bremer Bank
Burianek Law Office
C&R Ventures
Cabin Road CoffeeHouse
Country Realty
Darryl Collette Farm
Don Swartz Insurance
Edward Jones - Cori Dvorak
Grafton Chiropractic Clinic, PC
Grafton Curling Club
Grafton Drug
Harley Kingsbury Co.
Heartland Eye Care, PC
Helen's Country Greenhouse
Hills' Inc.
JRs Bar
Kilmer Excavating
Lifetime Dental
Morgan Printing/Walsh County Record
Northern States Insurance - Chris West
Nutrien Ag Solutions
Remington Seeds LLC
Roger Gorder Farm
Schumacher & Sons
Simmons Broadcasting
The Squire Shop
TLB Air
Tollefson Funeral Home
Vaaler Insurance
Top Teams
1st Place
AgCountry Farm Credit Services (pictured)
2nd Place
Kilmer Excavating
3rd Place
True North Equipment
Contest Winners
Hole 4: Honest John Contest (men & women)
Alan O'Neil, Unity Medical Center
Hole 6: Longest Drive Contest (men & women)
Scott Holm, Altru Health System
Hole 7: Longest Putt Contest
Randy Corrick, Drayton, N.D.
Hole 9: Closest to the Pin (men & women)
Mike Kilmer, Kilmer Excavating
Top Poker Hand
Andrew Petersen, Grafton, N.D.