Performance Leadership Award for Quality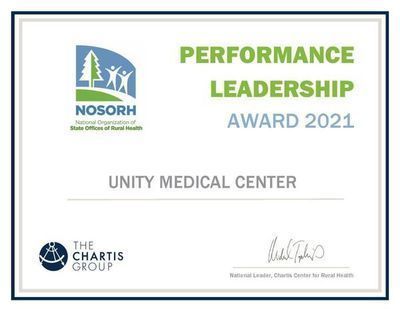 As part of the 2021 National Rural Health Day celebration, Unity Medical Center announced it has been recognized by The Chartis Center of Rural Health and the National Organization of State Offices of Rural Health (NOSORH) with a Performance Leadership Award for Quality.
The Performance Leadership Award is based on the results of the Hospital Strength INDEX, which is a comprehensive and objective methodology developed by the Chartis Group for assessing how rural hospitals are performing. The INDEX is based entirely on public data sources (no surveys or questionnaires etc. are used) and it encompasses all 1800 Critical Access Hospitals in the US along with ~900 rural and community facilities. There are eight performance pillars in the areas of (quality, outcomes, patient perspective) and Chartis percentile ranks each hospital's performance against the full cohort of rural hospitals. Award winners are those facilities that ranked in the top quartile (75th  percentile or above) in either quality, outcomes or patient perspective.
According to Sandra Lessard and Merideth Bell, UMC's Quality Directors, "Throughout the last year, the Unity staff diligently continued their quality improvement projects and flexed to meet the needs of our community. This award highlights the commitments made by the teams at Unity to provide quality care to our patients. The entire Unity team should celebrate this award and their pursuit of excellence together."
Alan O'Neil, CEO, Unity Medical Center shared, "Unity Medical Center is very proud to be recognized by the State Office of Rural Health in conjunction with the Chartis Group as a recipient of a 2021 Performance Leadership Award for Quality. Quality patient care is so vital for healthcare organizations. We are constantly striving to improve our quality metrics in all areas through process improvement. Thankfully, we have a wonderful team who consider it a privilege to take care of patients and are very focused on delivering the highest quality care possible. A big thank you to Sandra for her leadership over the years and now with Merideth joining us we will continue to raise the bar.  We are constantly growing and adding new services and visiting specialists to make it easier for our patients to get the care they need without having to leave Grafton. We have also greatly increased staffing over the past several years and have added about another 50 employees to our organization."
"We are proud to mark this year's National Rural Health Day by recognizing rural hospitals' steadfast commitment to serving their communities and delivering high quality care," said Michael Topchik, National Leader, The Chartis Center for Rural Health. "In the face of tremendous challenges, these top quartile performers continue to exemplify the power of rural and create a blueprint for excellence in quality, outcomes and patient perspectives."